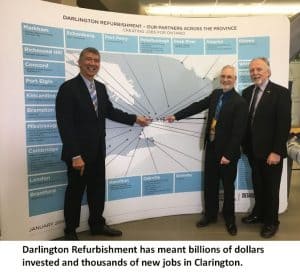 Adrian and his wife, the Rev. Deb Foster, live in Courtice. They have two sons, Lee, who has built a career in the film and videography industry and Josh who has graduated with his Masters in Applied Bioscience from UOIT and is now working at Dynacare.
Adrian has extensive business, government and community experience. A graduate of the University of Toronto with a BA (hon), his first job was with Surrey Place Centre dealing with developmentally disabled children and their families on the Behaviour Management Ward.
Later, Adrian entered the financial services industry, fulfilling the requirements for Life, Health and Sickness Insurance and completing and being licensed through the Canadian Securities Course, the Canadian Options Course, the Branch Managers Course and the College for Divorce Specialists. Adrian's career in financial services spanned 26 years. Adrian has also completed the Rotman School of Management / University of Toronto's Directors Education Program.
Adrian has been and continues to be deeply involved in the life of the community. He was a co-chair of the Clarington Business Group, co-chair of Clarington Rick Hansen Wheels in Motion events , was a Scout leader, is a past president of the Clarington Board of Trade, was a member of the ITER Community Council, was a charter member of the Courtice Rotary Club, a director of the Courtice Area Ratepayer's Association.
In recognition of his community work, Adrian was awarded the Queen's Golden Jubilee Medal in 2003 and a Paul Harris Fellowship award from Courtice Rotary. In 2013 Adrian received the Queen's Diamond Jubilee Medal.
Adrian has served the municipality on a variety of committees and boards, including the Accessibility Advisory Committee, the Traffic Management Committee, the Animal Advisory Committee, CLOCA Board of Directors, the Abandoned Cemeteries Committee, the Clarington Library Board, the Clarington Museums and Archives, Friends of Second Marsh, the Darlington Nuclear Site Planning Committee, Durham Region Finance and Administration Committee, the Durham Region Local Housing Corp, the Association of Canadian Nuclear Host Communities, Co-chair of the Nuclear Mayors Caucus, the Sustainable Clarington Advisory Committee and the Clarington Safe Communities Advisory Committee.
More recently Adrian chaired the renewal of Durham Region's Strategic Plan in 2015, was a member on the Region's Task Force for Affordable and Seniors' Housing and is currently the Vice Chair of Durham's Finance and Administration Committee and the Vice Chair of the Central Lake Ontario Conservation Authority.  He also sits as the Chair of Veridian Corporation, Veridian Connections and is the Chair of the Canadian Association of Nuclear Host Communities.